Special Purpose For Grinding Workshop Strong Suction Power Dust Collector
Information
Product Description
Video
TECHNICAL PARAMETERS
Model
porvoo
96-4
porvoo
96-5
porvoo
96-6
porvoo
96-7
porvoo
96-8
porvoo
96-9
Room(PC)
4
5
6
7
8
9
Air volume(m3/h)
33800-56400
42300-70500
50700-84600
59200-98700
67700-112800
76100-126900
Fiter area(m2)
470
587
705
822
940
1058
Qty of bags(PC)
384
480
576
672
768
864
Size of bags(mm)
Φ130*3000
Φ130*3000
Φ130*3000
Φ130*3000
Φ130*3000
Φ130*3000
Puse Valve
Size(in)
3
3
3
3
3
3
Qty(PC)
4
5
6
7
8
9
Filtion velocity(m/min)
1.2-2.0
1.2-2.0
1.2-2.0
1.2-2.1
1.2-2.0
1.2-2.1
Resistance(pa)
1400-1700
1400-1700
1500-1800
1500-1800
1500-1800
1500-1800
Entrance dust concent concentration(g/Nm3)
<1300
<1300
<1300
<1300
<1300
<1300
Exit dust concentration(mg/Nm3)
≤30  
≤30  
≤30  
≤30  
≤30  
≤30  
Bearing pressure(pa)
<5000
<5000
<5000
<5000
<5000
<5000
















Model
porvoo
96-2*5
porvoo
96-2*6
porvoo
96-2*7
porvoo
96-2*8
porvoo
96-2*9
porvoo
96-2*10
Room(PC)
10
12
14
16
18
20
Air volume(m3/h)
84600-141000
101500-169200
118500-197500
135400-225700
152300-253900
169200-282100
Fiter area(m2)
1175
1410
1645
1880
2116
2351
Qty of bags(PC)
960
1152
1344
1536
1728
1920
Size of bags(mm)
Φ130*3000
Φ130*3000
Φ130*3000
Φ130*3000
Φ130*3000
Φ130*3000
Puse Valve
Size(in)
3
3
3
3
3
3
Qty(PC)
10
12
14
16
18
20
Filtion velocity(m/min)
1.2-2.0
1.2-2.0
1.2-2.1
1.2-2.0
1.2-2.1
1.2-2.2
Resistance(pa)
1500-1800
1500-1800
1500-1800
1500-1800
1500-1800
1500-1800
Entrance dust concent concentration(g/Nm3)
<1300
<1300
<1300
<1300
<1300
<1300
Exit dust concentration(mg/Nm3)
≤30  
≤30  
≤30  
≤30  
≤30  
≤30  
Bearing pressure(pa)
<5000
<5000
<5000
<5000
<5000
<5000
Characteristics:
1 .Dust removal efficiency can reach above 99.99 and dust emission can be controlled under 30 mg/NM
2.Can deal with high concentration of dust and dust collecting can be processing and recycling.
3.Advanced sealing measures and air leakage coefficient is less than 2%.
4.Special way of soot cleaning effectively, extend the service life of filter bag.
5.Stable performance, high degree of automation, simply maintenance and can be changed bag under non-stop machine.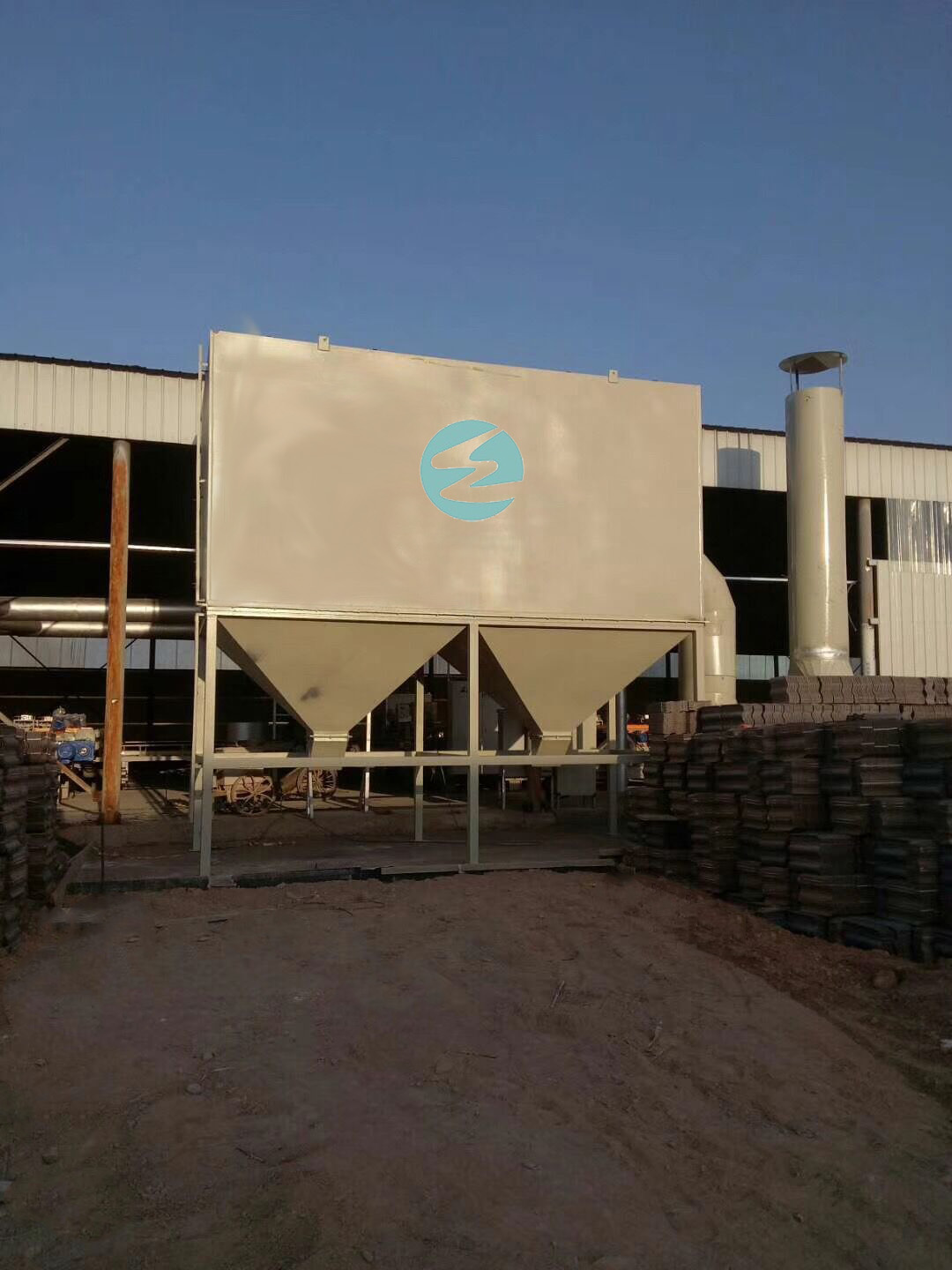 PROVOO 96 SERIES
The dust collector away-line dust-collecting pattern integrates advantages of all kinds of dust collectors like chambered reverse blow and pulse spraying blow,which improves the efficiency of collecting dust by means of carrying out the function of filtering and pulsing dust collecting separately.This kind of dust collector has the advantages of the compressed air pressure.

Widely used in ceramic, building material dust removal system, high volume, high efficiency!